Raccoon Mountain Caverns & Campground is the perfect place to relax and have fun with your family and friends.
Just 15 minutes from downtown Chattanooga TN, and nestled in the foothills of the Appalachian Mountains, Raccoon Mountain is a beautiful and secluded setting for your next vacation. With its spacious campsites, stunning mountain views, and exciting activities, Raccoon Mountain is sure to please everyone in your group.
Whether you're looking to go camping, hiking, fishing, or exploring the cave, Raccoon Mountain has something for everyone. And after a long day of activities, you can relax in our swimming pool, play field games or hang in the game room.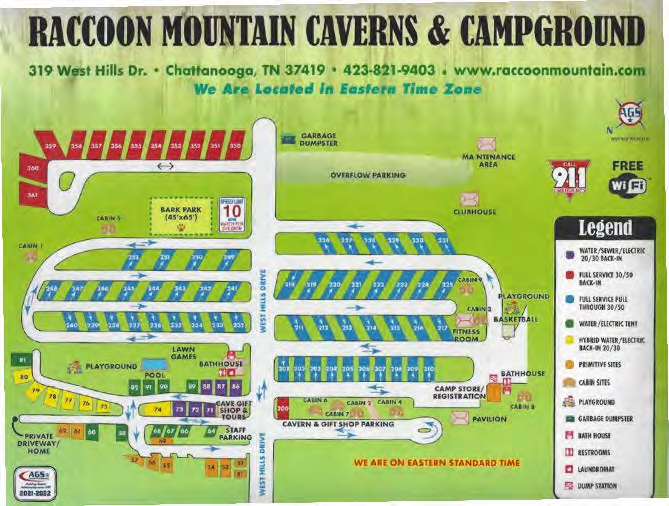 Management & Ownership Prerogative: We reserve the right to refuse service to anyone at any time. We reserve the right to make exceptions to the rules. We reserve the right to change the rules at any time without notice.
The resort or resort personnel is not responsible for any loss, damages, or claims to property of resort guests due to theft, fire natural causes, or any other causes. We do not assume responsibility for any act of nature (wind, rain, lightning, flood, tornado, et) in
If you break or bend any rules, we have the right to evict you immediately, without a refund.
If we determine, at our sole discretion, that your behavior or the behavior of your family or guest is disruptive or not in harmony with the park we will immediately evict you without refund. (this means if you are being disruptive at 1 am, you will be evicted at 1:05 am- the Sheriff is aware of our policies)
Vehicles: We reserve the right to refuse or allow vehicles at our discretion. In general, we do not accept homemade RV's, school bus conversions, or any vehicle with a manufacturing year prior to 2010, however, if you send us photos prior to booking your stay we may make exceptions. All vehicles must be legally licensed, insured, and in operating order always.
Any vehicles that will not fit on your assigned site must park in one of the overflow lots. Extra Vehicles may not be parked on a vacant site, on the grass, on the road, or in front of the bathhouse/laundry rooms. There is a $50.00 fine for parking in grass, roadway or other RV sites. If you are unsure of where to park, please speak directly with the office staff for assistance.
Check-In Time: Check-in time for RVs is 12:00 pm ets. Check-in for Cabins is 3:00 pm.
Check-Out Time: Check-out time for all is 11:00 PM.
Speed limit: For the safety of our patrons & pets, please obey the 10 MPH speed limit throughout the resort.
Payment: All fees are payable in advance. Fees are based on two people and one tow vehicle. All visitors must register at the office to use the facilities.
Cancellations: Reservations canceled 14 days or less before scheduled arrival are required to pay the full reservation amount. Reservations canceled more than 14 days before scheduled arrival will only be assessed the original 20% deposit fee.
We will fight all credit card disputes. Early departure does not constitute a basis for a refund.
Insurance: All guests are required to show proof of valid insurance upon request; failure to do so will result in immediate eviction and no refunds will be given.
Parking – Boat trailers are not permitted in the RV sites. Please help us manage congestion by parking all boats and boat trailers in the designated parking area.
Alcohol: Alcoholic beverages are permitted at your site only. Tennessee law prohibits open alcohol anywhere outside of your rented area, including any public areas such as the pavilion, club house, and gift shops.
Laundry:  Please do not leave your laundry unattended. Do not put out clotheslines or hang laundry outside. 
Pets: Domestic pets (dogs, cats, and birds) are welcome. Birds must remain in RV at all times. Aggressive pets are not allowed. We will ask guests that have aggressively behaved pets to leave. More than two pets per site must have management approval. Pets must remain on a leash no longer than 6 feet outside unless they are in the designated Dog Park off-leash area! Pets are not allowed to stay outside unattended. YOU must be with your pet at ALL TIMES! There are pet waste stations throughout the park. Please be a responsible pet owner and clean up after your pet, even in the designated pet areas. Pets are not allowed in any resort building to include the restrooms and laundry room. No pets are allowed inside the fenced-in area around the pool.
Per Hamilton County ordinance, Pit Bull breeds and mixes of these breeds are not permitted in public areas. Due to this regulation, we unfortunately are unable to allow these animals on premises. 
Fishing: We have some of the best fishing here.  Fishing licenses are required. Children must be accompanied by a parent. 
Swimming:  There is no lifeguard on duty at any time. Our resort is not responsible for your safety. Life Jackets are recommended. Any persons using the pool must have a pool bracelet on and visible at all times. Bracelets are provided upon check-in. Replacement fees apply for lost bracelets. Any persons under the age of 16 must be accompanied by an adult at all times while using the pool.
Children: Parents are responsible for their children at all times. Children must be on your site by 9:30 PM. And give them a hug 
Club House: No children under the age of 18 are allowed unless accompanied by an adult. 
Golf Carts/ Four Runners: Children under the age of 16 must be with an adult in the front seat of the Cart/Runner. No Exceptions! 
Cleanliness: All sites must be kept neat and clean at ALL times.  (No trash, trash bags, cigarette butts, etc. at any time) 
Firearms/Fireworks:  Are not allowed in the park.  
Clubhouse: Do not remove any resort property from the building at any time. 
No Smoking or vaping in public buildings or within 10 feet of all entrances, exits, windows and accessibility ramps.  Do not drop your cigarette butts on the ground.  
Quiet Time: 10:00 pm – 8:00 am 
Frowns: Not allowed. If you feel compelled to have one, please leave it at the dump station and pick it up when you leave. 
Trash: Trash Pick Up is Offered Daily from 9 am – 11 am for waste left by the road in front of your site! Outside of these hours, all trash must be taken to the dumpster. No batteries, paint, tires, hazardous materials, or large items may be placed in or near the dumpsters.
Also, do not leave trash outside overnight! Wildlife will get into it.
Deliveries and Propane: Give us a call during business hours for our delivery services to your site: Firewood Ice Propane Bottle Pick-Up & Refill